MANRS Participants | News and Announcements
MANRS Observatory: New Release, New Features, New Users
By Andrei Robachevsky
4 Feb 2020
Collaboration and shared responsibility are two pillars of the MANRS initiative to create a baseline of routing security for network operators around the world.
The same values apply to running the MANRS Observatory, an online tool we launched in August that lets users track the state of Internet routing security and network operators their "MANRS-readiness." Aggregating data from trusted sources, it relies on the community with a shared goal to protect the core of the Internet.
Since we rolled out the tool, many of you have shared that you would like to see updates to make it more informative, intuitive, and easy to use. We take your comments seriously, and we are delighted to introduce some of the new features to you.
We've made several improvements to the user interface, including:
Improved Search. The search network now displays the name of a network as you type an ASN. This feature is only available to MANRS participants; public access does not provide data for individual networks.
Report Sharing. Individual network reports that provide detailed information about potential incidents and cases of non-conformance can now be easily shared with colleagues across the company, for example at a NOC. Metrics and corresponding detailed data can now be exported as separate reports in JSON format. Also, any part of the report can be shared by using a link with a stable URL.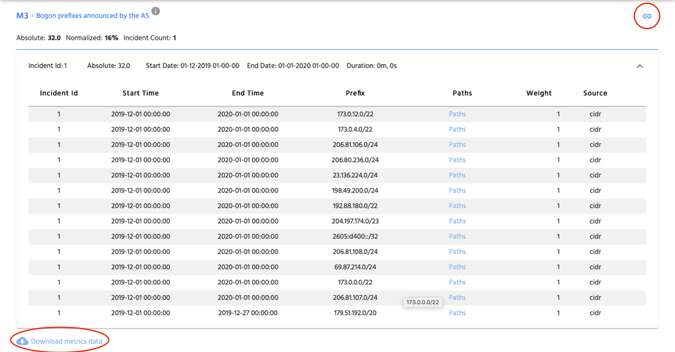 Simpler Metrics. We consolidated some data related to metrics indicating "bogon" announcements. The reports are now less "chatty" and easier to read.
Historical Charts. When more than one network is selected, the history charts are shown as a stacked diagram, showing the distribution of "ready," "aspiring," and "lagging" networks as well as the average readiness index for the group.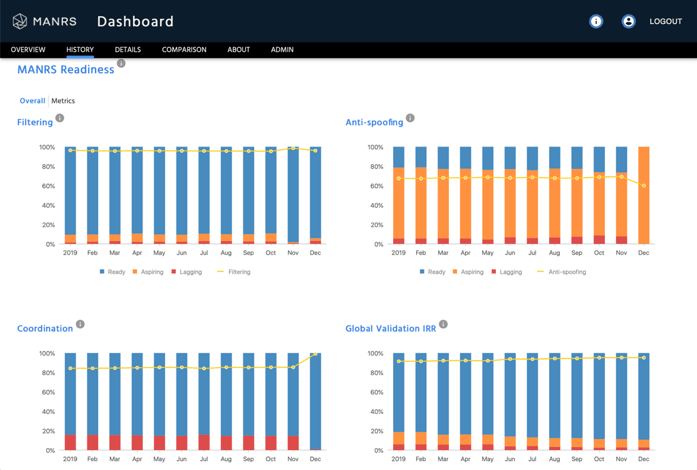 New Data Source. We added new contact information to make the corresponding metric (M8) consistent with the MANRS requirement. Now, next to RIRs' WHOIS databases, PeeringDB is also queried.
Custom Network Groups. Participants and partners can now create custom network groups of ASNs they are interested in monitoring. This does not change access permissions; users still only have access to detailed reports for the ASNs they operate, but groups provide an easy overview, otherwise accomplished by manually adding ASNs through the search function. Several use cases were considered, including: a transit provider monitoring its customer cone, a CSIRT monitoring MANRS conformance of its constituency, or a government monitoring networks of its agencies.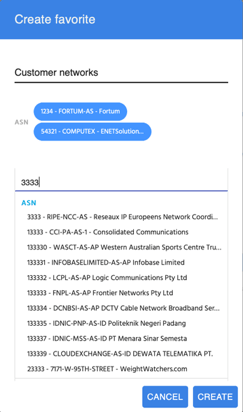 Partner Access, More Granular Data, and an Enhanced Acceptable Use Policy
We have been getting requests from organizations and individuals working together with MANRS to promote this initiative and routing security. They see the MANRS Observatory as a useful tool to support their work. To enable their access to more granular data, we revised the Observatory's Terms and Conditions, which now clarify an acceptable use policy. In particular, it says that use of any information derived from the Observatory is only permitted "for purposes of promoting routing security or MANRS, such as presentations, technical workshops and tutorials," and that it can only be shared in "de-identified form." Partners can still only access overall readiness scores – access to detailed reports remains open only to the operators of respective networks. To apply for partner access, fill out this form.
Aspiring MANRS Networks
Another potentially useful feature that we've started testing is a so-called "aspirant" account. When a network applies to MANRS, during the audit process we often share data related to potential areas of improvements that we get from the MANRS Observatory. The aspirant account allows the network engineer to log in and explore all the data related to their network available in the Observatory, fixing any shortcomings they find. That should help streamline the audit process and improve the quality of applying networks.
Your Feedback
Routing security problems cannot be solved by any single entity. It requires collective action, like MANRS. That is why we appreciate the feedback you have given us, so that the Observatory can be more useful to the community. That in turn will help all of us make the Internet more secure.
If you are using this tool, please let us know what you think about these features. If you have suggestions on how to improve the tool further – please let us know, too! Email us at [email protected].